So this Friday I am sharing 5 of my very favorite things ( for the moment). These are things I just can't get enough of:)
1) Vera Bradley is one of my all time faves! Currently I love the new color Safari Sunset. I have the XL duffel on my Christmas List!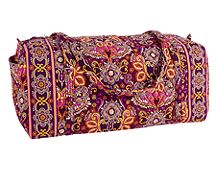 2) Pintrest! I spend entirely to much time on here, but I love all the fun ideas. I have actually made a few of them here in the last couple weeks, GO me!
3)Starbucks Pumpkin Spice Latte! I ♥ these. I have actually only had 3 this season, due to the fact that our Starbucks isn't close and never on my way anywhere:( Still tops my fall faves list!
4)Cookie baking and decorating. SO I see all these beautiful cookie on Pintrest and drool. Of course I think "I can do that". Turns out I CAN'T do this! I am determined to master this, so stay tuned for results...
5)Burlap! I have always loved burlap, but lately I am OBSESSED with it! I have decided to do my new Christmas decor all in burlap and cream, with brown accents. So if you spot anything I need to buy or craft let me know:)
So there ya go another fast five! Hope you have a great weekend:)